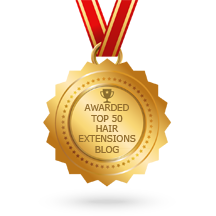 When our business started in 2008 it was easy to predict that our USA buyers would be pivotal to the success of Virgin Hair And Beauty Ltd. Our first ever products which were two Front Lace Wigs were listed on our then ebay store and sold within 24 hours - both to the USA.

There were just two UK sellers of virgin remy human hair on Ebay back then and we are still going strong. Women of the United States have long led the way in high-end hair, beauty and fashion. With a roll-call of female stars who have exhibited stunning hair and beauty trends, we will always be inspired by the trends coming out of the USA. 
With so many human hair extensions vendors in the USA, you would wonder why we have such a high number of orders from the states? Well America is a big place, but more and more women and stylists are getting fed up of the "china hair market" also known as "chinese hair" and these days more referred to as "aliexpress hair".
China does make approx. 94% of the worlds goods, there has been an industrial revolution there over the past 20 years. They have the intellectual, technical and workforce capabilities to produce just about anything.
Its time to set the record straight: China imports tones of human hair from countries such as India, Vietnam & Cambodia (usually in that order). Each of these countries offer human hair of different textures allowing processing of thick, medium and fine density hair types to be named Brazilian, European, Russian etc. Hair extensions are mass produced in China and on such scales can the natural form of remy hair (unidirectional with cuticles all running from root to tips) and quality be protected? and is it all 100% human hair? does the world really offer that amount of real human hair in such volume? 

It has taken us 9+ years to find the 1 best hair supplier in China and this supplier really is the best China has to offer, they have the same values as us and we call on the specific skills they have to make our hair pieces, some of our curly hair and 1 line of our custom made wigs which cannot be made to such a high standard anywhere else.  
Virgin Hair And Beauty's hair extensions started with our Superior Indian & Superior European hair, and we are very proud to say that our original hair buyers in South India & Ukraine are still some of our suppliers today. They have grown with us and us with them. Our preferred suppliers encompasses only the best players in this market. 

Our American clients appreciate that we have many different and real hair types on offer and from hair type to hair type you can see the difference in our textures. They all have their individual characteristics and they all look (and feel like) 100% human hair. Unlike many other hair extension companies, we do not put all of our "hair in one basket" so to speak. We have a strong brand ethos - We will continue to supply you with some of the highest quality human hair extensions. 

We understand that buying your hair extensions online can be quite daunting but you can rest assured that from us you will receive 100% real human hair which will be coloured to suit your specifications and will blend in seamlessly with your natural hair. 
Take a look at us working on our real human remy hair extensions here